Attention:
Chicago Hair Stylists, Nail Techs, Wardrobe Stylists, Fashion Designers, Models, Photographers, Cosmetic Professionals, & Beauty Makers
Expand Your Services With Makeup
Do your clients walk in with magazines wishing you could recreate their favorite celebrity looks?
Are you spending countless hours watching makeup tutorials on Youtube?
Wish you could get the hands-on experience you need to market yourself as a makeup artist?
If so, then this is the class for you!
Learn how to give your clients Kim Kardashian's contoured chiseled cheeks and smokey eyes and Angelina Jolie's perfect pouty lips.
Hollywood stars are obsessed with cosmetic surgeries that your clients can't afford. Offer your clients an alternative that will have them coming back to you again and again!!! Dispel their myths that they have to go under the knife to achieve the look they have always wanted. You can help them ACHIEVE facelifts, fuller lips, a slimmer nose, raise flat cheeks, and fewer wrinkles WITHOUT botox...
Nip and tuck with these skin care and makeup techniques!
Treat your clients like CELEBRITIES
and give them the HOLLYWOOD look they REALLY want!
Beauty Basics and Beyond for African American Women.
You may have read
Sam Fine's book,
but have you
mastered the techniques
yet? No? You need to be in my class.
www.BlushingAmbers.Eventbrite.com
PHOTOGS - Would you like for your models to be CAMERA READY or the ability to provide TOUCH-UPS on set when no makeup artist is available??? Everything you need to know, can be learned in these 3 hours!
---
Amberly is a professional print and live performance makeup artist and the international makeup video contest winner for Iman Cosmetics Leather and Lace contest. Watch her prize winning tutorial.
Her experience began at the age of 16 on the set of a Crest commercial and soon after with an independent film featuring actress BerNadette Stanis (Thelma on Good Times) and actor Clifton Davis (Amen) as a makeup assistant to her cousin and celebrity makeup artist, Tojuana Carter.
Amberly's blog, Blushing Ambers has received mentions from noted fashion photographer Nigel Barker and special comments from Jill Glaser, founder of MakeUp First School of Makeup Artistry and Tia Dantzler, celebrity makeup artist.
With Amberly's instruction and guidance you will:
- Learn to master techniques that provide a flawless application.
How are you applying foundation? With a sponge? Your finger? How about a brush?
Watch this demo to see the difference each application makes.
- Gain product knowledge that will take your client's beauty beyond the surface and truly skin deep.
- Face any fears you have about providing makeup as an additional service to your clients.
- Discover business opportunities with makeup that have potential to make you a 6-figure earner.
Register at http://blushingambers.eventbrite.com/
Ticket Info: $40.00
HERE IS WHAT YOU NEED TO KNOW
Makeup does two things, conceal flaws and enhance natural beauty. Master the foundations of flawless looking skin with this beauty deal: for $40, you get a makeup-course package from

Amberly Carter

(a $495 value). The package includes:
Three-hour skincare, day time

and night time makeup course

Motives by Loren Ridinger False Eyelashes to complete your look

Product list and handouts

Certificate of completion with eligibility for other advanced courses

25% discount on future courses.
Students are

required to bring self-provided tools

to gain hands-on experience achieving trending celebrity-influenced styles. Through out the demonstration Motives Bombshell Team makeup artists will be available for one-on-one assistance. At the end of the course, each guest receives a certificate of completion and a 25% discount for advanced courses.
Customers can register for future classes at a discount by emailing

Business@BlushingAmbers.com

stating their interest and then choosing from a list of possible dates and times. All ticket purchases are non-refundable, but may be put towards a future workshop.
Our Sponsors: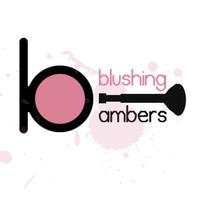 The Motives Bombshell Team (Chicago)